EPDM Rubber Roofing: Pros and Cons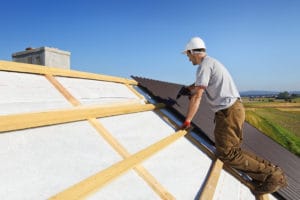 EPDM Rubber roofing is a newer roofing material, yet it provides many benefits. If you need to repair or replace your roof, look into rubber.
Installing EPDM
Since rubber is so new to roofing, only specific roofing contractors are qualified to install it. Therefore it is important to make sure that your roofing contractor has experience. Especially with installing rubber roofing before you hire them to install it on your roof. An article on doityourself.com lists the advantages and disadvantages of EPDM roofing.
One great thing about EPDM rubber roofing is that it is made out of recycled material.  This makes this roofing material very environmentally friendly. Rubber also reflects heat as well as act as a form of insulation which will save you money on your energy bill whether it be hot or cold outside.
Click here to read the full article at doityourself.com, and to learn more about the benefits that rubber roofing provides. You can also call a roofing contractor today to discuss the benefits.