Additional Information
Piedmont Roofing is a standing seam metal roofing company located in Virginia.
ADDITIONAL INFORMATION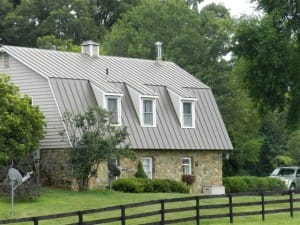 Metal roofing is renowned for both durability and attractiveness. Whether you live in a mid-Century townhouse or a log cabin, a standing seam roof is a valuable and long-lasting choice. This is a high-end upgrade that comes at a slightly higher price point than asphalt shingles or rubber roofing, but the results are well-worth the investment.
We'll fit your new standing seam roof to your home, picking the best guage and style for your needs. Thick, long-lasting and rust resistant metals in copper, steel, aluminum, tin, and zinc wear as well as they look, lasting for up to 40 years after a new installation.
Structures with increased shifting, either from wind or soil movements, Piedmont Roofing can use extension clips to keep your roof securely in place during movement. We can adjust your seam and gauge to best suit each section of your roof in advance--no costly revisions or surprises.
New roof installations come pre-painted and coated for protection against the elements. Your roof remains intact, year after year, with only the minimum amount of yearly maintenance necessary. If repairs are needed years down the road, we can correct them for you and restore your roof to a gorgeous finish.