Roof Snow Guard Systems
Piedmont Roofing is a standing seam metal roofing company located in Virginia.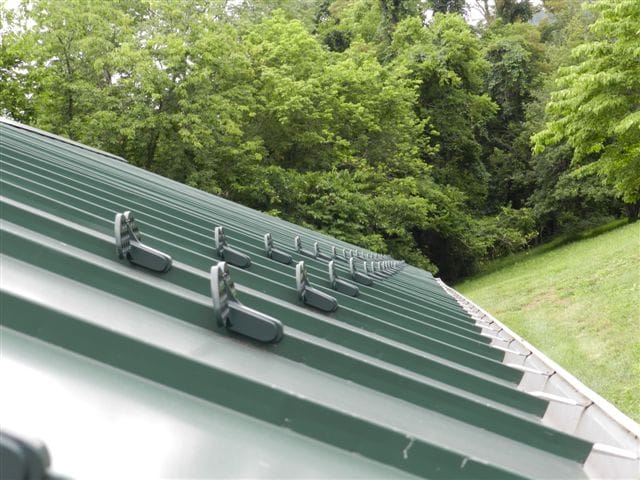 When winds rise and winter weather hails down from above, your roof is often the first surface to take the hit. Snow and ice that builds up and sits can cause a host of expensive and dangerous problems for property owners.
Piedmont Roofing wants you to know why every homeowner or property owner should install a roof snow guard system to reduce risks and make maintenance tasks easier. We can alleviate these issues with a system that adds both functionality and beauty to your roof.
Why Install a Roof Snow Gaurd System?
When you install a Piedmont snow guard system, you begin to benefit the moment cold, snowy, or icy weather hits. Your system helps to:
Reduce the risk of costly insurance claims from snow slides
Prevent ice damming up at the roof or gutter edge
Prevent extensive damage to gutters and spouting
Reduce the risk of structural integrity issues from heavy snow
Prevent corrosion from snow piles that sit and interfere with your metal roof finish
Roof snow guard systems protect your gutters, spouting, shrubs, patios, family and friends from falling icicles, debris dumps, and falling snow--something that's particularly important if you have pets or kids.
Rather than allowing snow to clump up on your roof, our snow guard systems spread it out over your roof evenly. When exposed to the sun, the spread-out snow melts rapidly and drips away from the roof in the form of water instead. This prevents excessive pressure across the roof and reduces the risk of potentially harmful surprise snow slides.
Last (but certainly not least) is the fact that a roof snow guard system also reduces the need to climb up on your roof to remove heavy snowfalls. Falls from the roof are a significant cause of property owner injury in bad weather. Don't risk it when your snow guard system could be doing the work instead!
At Piedmont Roofing, we believe that every customer can reap the benefits of a custom-fitted system for their roof. Don't wait for winter to roll around; make sure that you're prepared for cold weather well in advance.
Call 800-594-8180 now to speak with a roofing specialist.
Choosing Your Snow Guard System
When you call Piedmont Roofing, we immediately assess your needs and take into consideration other factors like your budget, your decorative preferences, and your current installation requirements.
From there, we'll work one-on-one with you to pick the solution that best suits your overall goals.
Our broad range of systems come in a long list of options, making it easy to match every exterior design scheme. From the Victorian farmhouse to the sleek and modern container home, we have the experience and knowledge to make it work.
When Appearance Counts
Our snow guard systems are suitable for both decorative and functional needs, so there's no need to fear that your new system will interfere with your facade. On the contrary; the right roof snow guard will add decorative flair to your roof instead. We encourage you to request examples of the systems we have available.
If we don't have an immediately customizable system available, we'll create a customized solution for your home instead. Piedmont Roofing can accommodate both commercial and residential roofs in a variety of inclines and materials including metal, slateline, slate, shingles, clay tiles, and rubber.
Contact Piedmont Roofing today for your free, no-obligation estimate!